Send Inquiry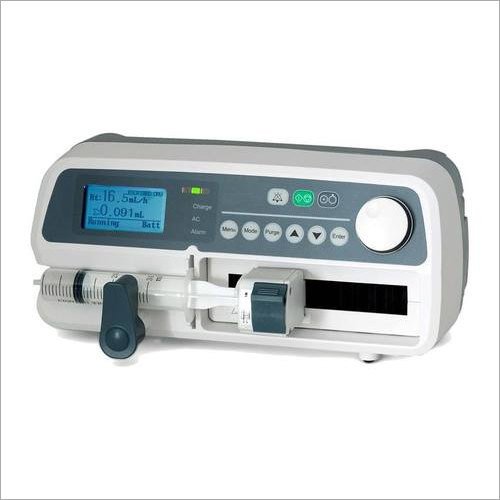 Product Description
Syringe Pump
The Syringe Pump we offer is a medical infusion pump that is designed to offer controlled quantities of fluids to the patient. Fluids administered might range from blood, medicinal formulations and various health boosting nutrients. This Syringe Pump is mainly applicable in fields related to in vivo diagnosis, medical treatment, and is even demanded for applicability in research work. The pumps we offer are safe to use and prevent entry of air bubbles that might lead to numerous health hazards. These pumps should be used under proper medical supervision only.
Product Description
No pulse delivery : full uniform motion , smooth pulse less ;
Without cleaning : fluid
Transport different characteristics just replace the syringe ;
Adaptability : suitable for a variety of different brands of syringes ;
High precision control : control error ± 3%.
Comprehensive index -type injection pump Products in the following table :
Injection rate 0.1m1 / h -500.0 ml / h, step : 0.1 ml / h Applicable syringe 5 ml, 10 ml, 20 ml, 30 ml, 50 ml
Speed setting range 5 ml: 0.1 - 50.0 ml / h, 10 ml: 0.1 - 100.0 ml /h, 20 ml: 0.1 - 200.0 ml / h, 30 ml: 0.1 -300.0 ml / h, 50 ml: 0.1 - 500.0 ml / h
Can be synchronized to display the cumulative increase in the amount of time the cumulative injection volume display 0.1-999.9 ml, rapid injection of state
Rapid injection speed 5 ml: 50.0 ml / h, 10 ml: 100.0 ml / h, 20 ml: 200.0 ml / h, 30 ml: 100.0 ml / h, 50 ml: 500.0 ml / h
Injection Accuracy ± 3% ( after trimming setting up to ± 2%)
KVO rate of 1m1 / h, keeping the vein open state Power Requirements AC 85V - 165V, 50 HZ
Built- in rechargeable lithium-ion battery battery, DC8.4V, 1600mAh; After fully charged 25.0 ml / h continuous work more than 5 hours
The flow rate of the display information , the amount of accumulation , syringe size , battery capacity, battery charging , AC power source, complete the display , the display clogging
Alarm alarm function is completed , nearing completion alarm, clogging alarm, low battery capacity, syringe abnormal , no AC alarm
Outline maximum size 303 . 126 . 118 mm (L x W x H)
Maximum weight is less than 2kg
Enter Buying Requirement Details
Other Products in 'Syringe Pump' category